Our Passion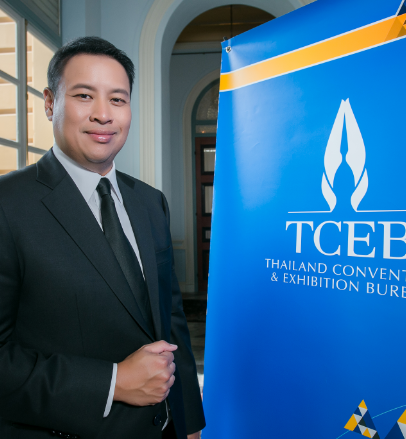 Today's business world has been evolving into digital modes. It is in ascendency in virtually all aspects of modern organisations, whether it is tailoring customer experiences, intelligence-driven management for higher efficiency and effectiveness, data reliance to uncover insights and develop new strategies.
The Thai government has been focusing on a policy to develop digital capabilities in all sectors to drive social and economic progress and enhance the country's competitiveness. As the government agency responsible for MICE industry, Thailand Convention and Exhibition Bureau has established innovation, digital and intelligence as one key cornerstone in elevating the professionalism, standard and competitiveness of Thai MICE industry so that we can respond to shifting demands of the business world or make deliveries beyond expectation. Towards this end, we have collaborated and formed a network with all stakeholders and partners.
TCEB is always committed to establishing Thailand as a preferred MICE destination where not only our world-renowned Thai hospitality holds the key, but also our adoption of digital, innovation and intelligence, a keyword to the success of the modern world.
Mr. Chiruit Isarangkun Na Ayuthaya,
President
Thailand Convention and Exhibition Bureau


Taking account of the visions of the 20-year national strategy on security, prosperity and sustainability, a coherent digital strategy will be a crucial mechanism for growth. In line with the government's policy, TCEB is placing emphasis on 3 key goals, namely revenue generation, innovation-driven development, and equitable

Distribution of income and prosperity. TCEB is aiming to boost the quality MICE market and distribute income to the cities. To accomplish this, the bureau is reorganizing its operating structure and has created a new MICE Intelligence & Innovation department. Particularly, we aim to work closely with operators to substantially boost the MICE sector in creating revenue and knowledge.
For this reason, the TCEB has initiated the MICE Intelligence & Innovation Department to promote the adoption of innovations and data for MICE development with particular emphasis on creating innovations based on the real demands of entrepreneurs. In additional, the MICE Intelligence & Resource Center will dramatically shape MICE innovations and data and is aimed at suppliers as well as the business, educational and public sectors. All will have access to the center, leading to an exchange of knowledge among people in the industry.
Mrs. Supawan Teerarat,
Senior Vice President of Strategic Business Development & Innovation
Thailand Convention and Exhibition Bureau