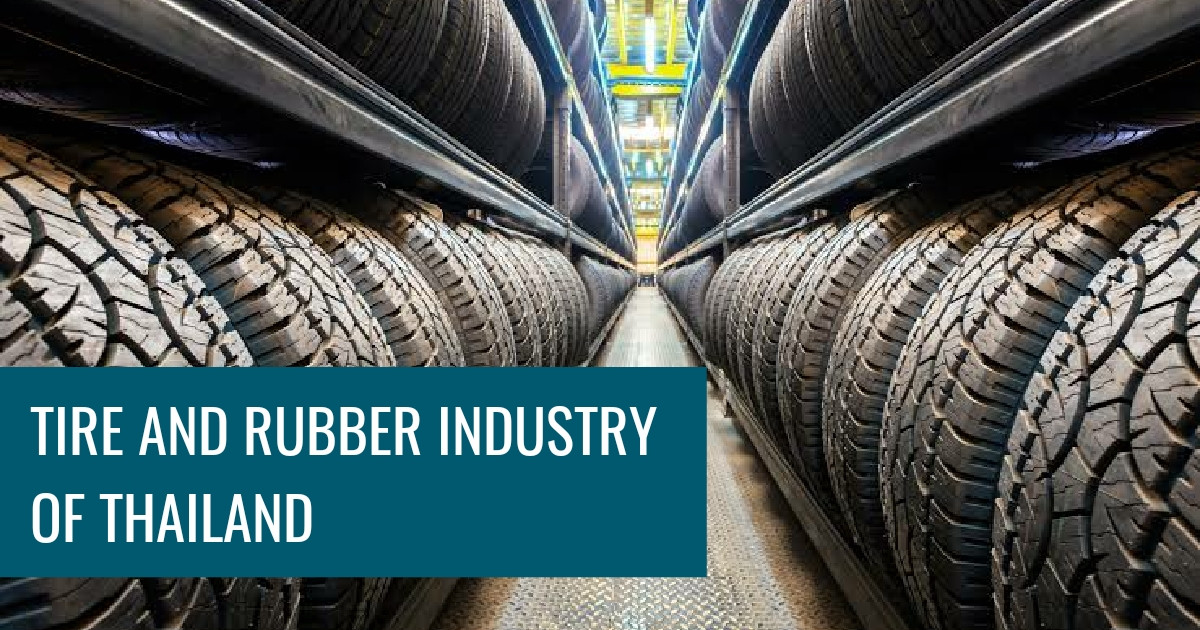 Asia is considered as the world's crucial sources of rubber especially Southeast Asian countries that have hot weather and monsoon climate which are significantly conducive to rubber tree cultivation. Thailand, Indonesia, and Malaysia are the top three producers representing 75% of the global rubber output. Since the early 20th century, after rubber plantation was introduced to Trang province, the southern part of Thailand, it has grown to become one of the country's important cash crops. With approximately 3.3 million hectares are rubber plantation area across the country and about 1.6 million households are rubber agriculturists, Thailand has become the world's largest exporter and producer of high-quality rubber and rubber processing products such as tires, rubber gloves and condoms.
Thailand's rubber industry has a full range of supply chain from upstream to downstream. The upstream is mainly involved with the planting and harvesting of rubber. Following by the midstream that involves the processing of rubber including the conversion of rubber into semi-finished products which will become the main for downstream industry such as ribbed smoked sheets (RSS), technically specified rubber (TSR), concentrated latex and compound rubber and skim rubber. Lastly, the downstream industry includes the production of rubber products such as vehicle tires, gloves, condoms, elastics and shoes.
The situation of the global rubber industry - Global Rubber and Tire market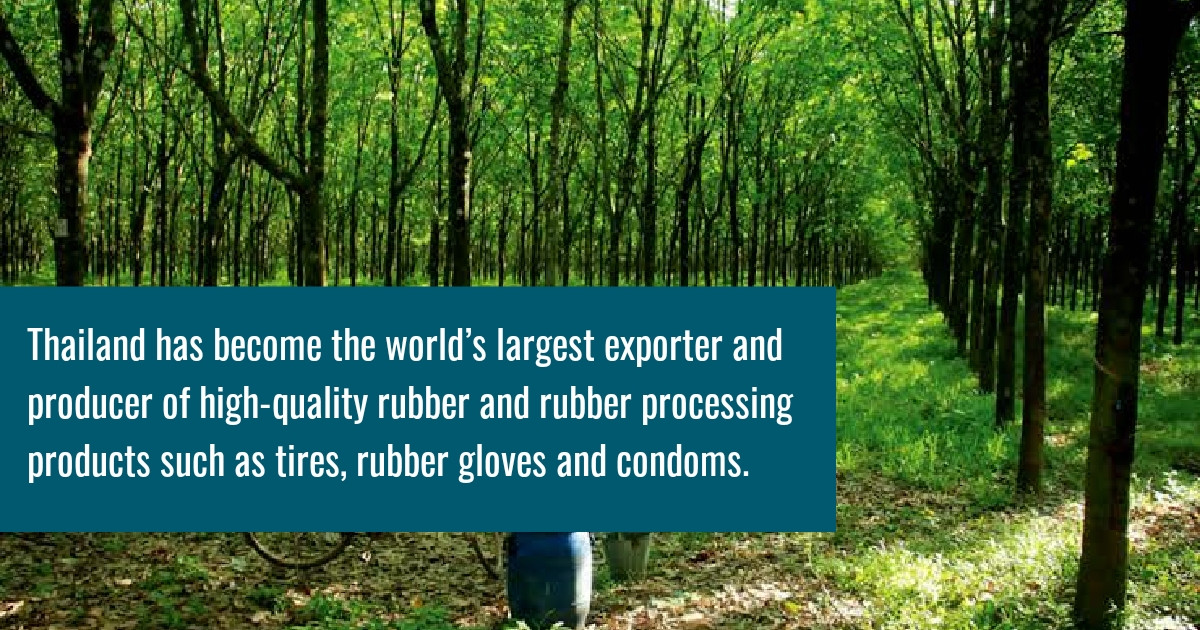 According to Rubber Statistical Bulletin, the total natural rubber production increased for 2.43% from 13.54 million tons in 2017 to 13.87 billion tons in 2018. Asia Pacific is the most important region for natural rubber production, accounted for about 90% market share of the global rubber market. In 2018, Asia Pacific produced about 12.64 million tons of natural rubber. Thailand is considered as the world's largest producer with 33.4% of the global natural rubber market share. Followed by Indonesia, Vietnam, China and Malaysia that were accounted for 24.7%, 8.5%, 6.4%, and 3.8% respectively of the global market share, according to Krungsri research. The second largest natural rubber producer is Europe, Middle East and Africa (EMEA), this group produced about 0.9 million tons in 2018 increased from 0.86 million tons from previous year. The third largest producers of natural rubber are Americas with the rubber production volume of 0.33 million tons in 2018 increased from 2017 which was 0.32 million tons.
In term of rubber consumption, the global consumption of natural rubber in 2018 was about 13.7 million tons which illustrated the oversupply as the consumption was less than the production, according to Rubber Statistical Bulletin. Same as production of natural rubber, Asia-Pacific is also the world's major consumption for natural rubber and China is ranked as the world's largest consumer. China consumed approximately 9.432 million tons in 2017, which was higher than the previous year for about 3%, according to Global Rubber Markets. This is because, the production in the automotive industry of China has been developing and growing steadily which enhance the consumption of natural rubber. Followed by the United States, India, Japan and Thailand with the consumption of natural rubber of 2.8, 1.6, 1.5 and 1.2 million tons respectively.
Between 2017 to 2027, The consumption of passenger cars and commercial vehicles are forecasted to rise a compound annual growth rate (CAGR) of 6.8% and 6.1% respectively. The growth in automobiles consumption will also lead to the increase in rubber tire consumption and production. The world's automotive industry and the demand for passenger cars have been increasing steadily which impacts to the demand for rubber tires. The world's rubber tire market is expected to grow 6.3% CAGR from the year 2017 to 2027 and expected to value approximately USD 645 billion at the end of 2027. Asia Pacific will remain to be the world's major production and consumption of rubber tire. As economic growth in the region such as China, Japan and Indian have raised people's demand for automobiles which boost the market growth for rubber tire.
The performance of Thailand's rubber and tire industry
Thailand is facing with the shrink in natural rubber export value
Thailand is ranked as the world's number one producer and exporter of natural rubber. However, the industry is facing with significant shrink in its overall export value and volume. The consumption of rubber was normally fluctuated and depended on several factors. Firstly, demand for primary products especially automobile that primarily uses rubber as one of the important automotive parts. As about 70% of Thailand's rubber will be processed into vehicle tires. If the demand for automobiles increased, the demand for rubber tile would increase too. Secondly, many companies in China, America, Europe and Japan tend to use Synthetic rubber instead of natural rubber as it is lower cost. Moreover, Thai natural rubber industry is facing with increasing competitors especially from CLMV (Cambodia, Laos, Myanmar and Vietnam) nations as rubber has low level of product differentiation.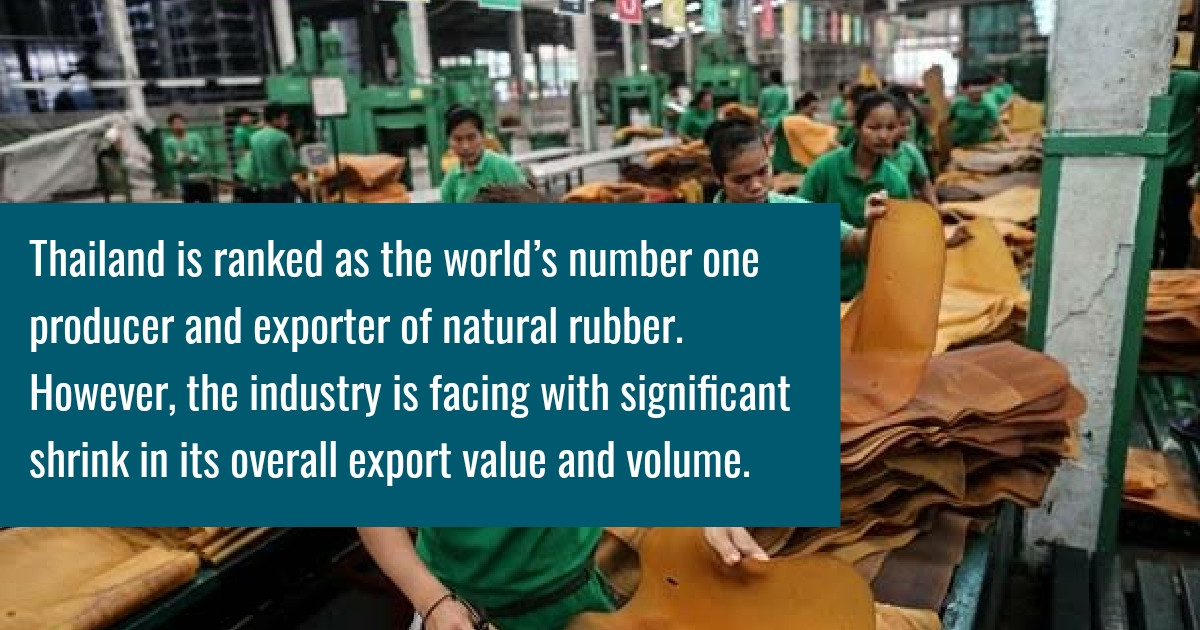 According to Ministry of Commerce, the overall export value of Thailand's natural rubber in 2018 was USD 4.6 billion which was shrink from the previous year by 23.6%. The first half of the year 2019, the export value was also looking gloom. Thai natural rubber's export value was USD 2.9 billion which was about 7.63% reduced comparing to the same period in the year before. In term of the export volume, total export volume of natural rubber increased from approximately 4 million tons in 2017 to 5 million tons in 2018, according to Rubber Int. Unit. China remains to be Thailand's major export country for natural rubber with the value of USD 1.9 billion in 2018 reducing from previous year for 32.66% which was USD 2.19 billion. Following by Malaysia, Japan, United States, India and South Korea that had the export value of 658.3, 346, 298, 172.3 and 15.7 million dollars respectively. In 2018, Block Rubber is considered as Thailand's largest export for natural rubber with about USD 2.2 billion which dropped for 22.84% from the previous year. Following by concentrated latex and Rubber Sheet that were the second and the third largest export value, earned about USD 1.3 billion and USD 902 million which reduced from the previous year for 11.28% and 37.29% respectively.


The rubber tire industry is still on the rise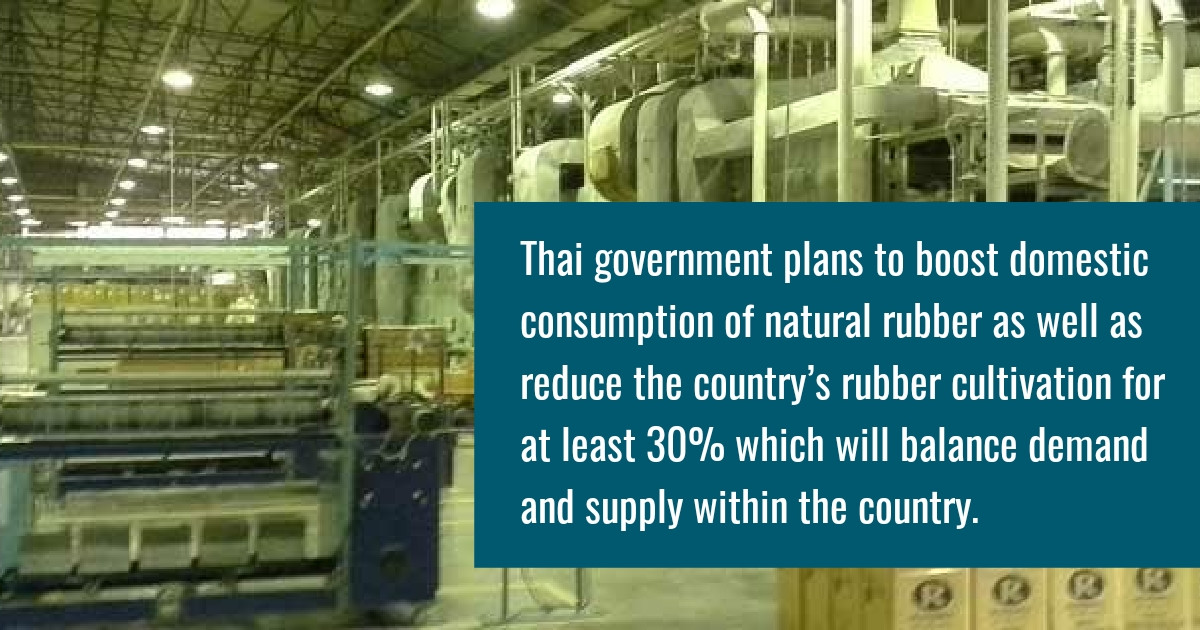 Although Thailand natural rubber is facing with the shrink in its overall export value, Thai rubber processing products seem to have positive growth. Rubber processing products are ranked the fourth largest export value of Thailand. At the end of 2018, the total value of rubber processing products increased for 7.48% from the previous year to USD 11.02 billion. Almost half of the overall value came from the export of vehicle tires which valued about USD 5.1 billion or 11.45% increase from the previous year. In 2018, Thailand's export volume of vehicle tires increased from 192 million tires in the year 2017 to 212 million tires in 2018, according to
Challenge of Thailand's tires and rubber industry
The oversupply of global rubber cultivation leads to declining in natural rubber price
As natural rubber is considered as economic plantation that used to generate high returns. In the year 2004 to 2010, the price of natural rubber reached the peak point which was about THB 190 per kilogram due to strong demand for natural rubber from China and India and high oil prices. Over the past half-decade, the raising of rubber price in the global market led to the continuous expansion of rubber cultivation across the world especially in Southeast Asian countries. The global rubber plantation significantly raised for approximately 14.1% from 78 million to 89 million rai which increased the volume of rubber supplies from 12.14 to 14.59 million tons in the year 2014 to 2018.
However, the increase in natural rubber cultivation around the world led to an oversupply of the market and the demand for natural rubber has been starting to fall since 2012. The production of rubber gloves and vehicle tires that were normally used natural rubber as main ingredients has been shifting toward using synthetic rubber instead. This caused the significant fall in rubber price from THB190 per kilogram in 2014 to THB50 per kilogram in 2017 and reached to THB 44.69 per kilogram in August, 2019.
The impacts of China - US trade war toward rubber and tire industry of Thailand
China and the US trade war is getting more serious after both countries began to impose additional tariffs on each other goods for up to 30%. On September 2018, The US charged the tariff for a minimum of 10% for importing of processing machine for rubber, natural rubber, chloroprene rubber, rubber parts and rubber products. On January 2019, the US raised the tariff on China's rubber goods for 25%. On the contrary, China also imposed the tariffs on US goods imported to China and dropped the Chinese exchange rate (Yuan) to be weaker in order to offset the US tariff impact.
The prolonged trade war would significantly impact to Thailand's rubber industry because China is the major export market and more than half of Thailand's rubber sheet are exported to China in order to produce rubber processing products especially vehicle tires and rubber gloves. Parts of the rubber products from China are exported to the United States, the raising of tariffs affect the export of Chinese vehicle tires and other products produced from natural rubber. Moreover, the consumption and the production of automobiles tend to be slow down which also impacts to the consumption of rubber and tires. In 2018, China reduced the import of natural rubber from Thailand for about 6.25% from 1.7 million kilograms in 2017 to 1.6 million kilograms in 2018. The total natural rubber export value to China significantly dropped for 32.66% from USD 2.19 billion in 2017 to USD 1.9 billion. The main reasons for this reduction are because of Chinese companies do not want to stock too much rubber in their stocks. Moreover, the drop of the Chinese currency and the strength of Thai baht make rubber more expensive for Chinese firms.
However, the impacts of US and China trade war might lead to many American and Chinese rubber companies are planning to relocate their manufacturing bases to other low-cost manufacturing countries in order to avoid being charged for additional tariffs. Thailand is considered as one of the major countries that Chinese rubber companies might move to as the readiness of country that rich in natural resources that important for producing rubber processing products. According to Board of Investment (BOI), the first quarter of 2019, China plans to invest in Thailand for about 35 projects worth THB 2.3 billion increased from the same period last year for 23 projects. In addition, American companies also plan to invest on 8 projects worth THB 358 million. There are up to 5 projects that value more than THB 1 billion come from Chinese investment on tire production, air conditioner production and aluminum wheel production etc.
Opportunity and investment of Thailand's rubber and tire industry
Thailand is the global production base for the global natural rubber. As the country's rubber industry has high potential, there are several investments and government plan on developing Thai rubber industries including boosting domestic consumption, rubber city, aircraft tire manufacturers, tire testing center and the relocation of Chinese tire manufacturer. The investments will enhance competitiveness, develop sophisticated technology and create value added to Thailand's rubber industry.
Boosting domestic consumption: A plan to fight back with low rubber pric
Thailand as the world's largest supplier for natural rubber, however, the rubber consumption within the country is only about 14.2% of the overall production. While Malaysia consumes approximately 35% of the country's rubber production and exports for 65% causes lower impacts when the rubber price is reduced. In present, the rubber price dropped to THB 43 per kilogram while the cost per kilogram is about THB 63 which means the rubber orchardists lose THB 26 per kilogram. And in the future, the natural rubber price will not be more than USD 2 per kilogram or approximately THB 66. To overcome low rubber price problem, Thai government plans to boost domestic consumption of natural rubber as well as reduce the country's rubber cultivation for at least 30% which will balance demand and supply within the country.
Thailand's Para-Soil Cement Road Project T


Thai government has promoted the use of rubber in road constructions across the country, expecting to increase the domestic usage of rubber. The plan is to use rubber latex in making para rubber soil cement roads for about 300,000 kilometers across the country. The local authority will build this type of road construction for about 50,000 kilometers each year. The year 2018 to 2019, the projects are now available for 2,565 projects and used concentrated latex for 29,554 tons and natural latex 3.07 million tons which significantly increased domestic consumption.

Rubber City project attract domestic and foreign investments


With approximately 1,218 rai, Rubber City in Songkhla province is another national industrial estate development project driven by the Industrial Estate Authority of Thailand. The project made up with worthwhile infrastructure to support the rubber business. With its special location, the firms will be able to support all logistic types from inlands to waterways and airways. The aims of City Rubber are to strengthen a whole value chain of Thailand's rubber industry in the southern part of Thailand. Moreover, the project also objects to boost the domestic use of natural rubber in the industrial sector, provides opportunity to SMEs and local business to produce new innovative rubber-related products and develop innovative manufacturing processes in order to create value added and be able to serve another related industry such as tires and rubber gloves.
According to Bangkok Post, after launching the Rubber City project, it is expected to generate more revenue to rubber agriculturists and rubber processing firms. Thailand's domestic consumption of rubber will increase for approximately 9,000 tons every year and expected to create about THB 450 million revenue. The rubber processing products are expected to earn 10 times comparing to natural latex which is THB 4.5 billion to rubber
Thailand is a second home for aircraft tire production of Bridgestone
Bridgestone, Japanese tire company plans to invest approximately USD 150 million or THB 6.1 billion on constructing 2 new manufacturing-based plants for aircraft tires and coated fabric in Thailand. The new Bridgestone aircraft tire manufacturers will be located in Eastern Economic Corridor. The first project will be located in Rayong province with about THB 4.6 billion investment, the manufacturer in this project focuses on producing aircraft tire and coated fabric. The manufacturer will be equipped with new technology that helps developing rubber tire structure to have better safety and reduce the use of fuel that suitable for large aircraft. The second project is located in Chonburi with the amount of investment of about THB 1.4 billion. The manufacturer in Chonburi emphasizes on using new production technology to retread aircraft tires.
Bridgestone already has 4 manufacturers in Thailand located in Nong Khae, Rangsit, Chonburi and Amata City industrial estate. The 4 plants focus on producing passenger, light truck, radial truck and earthmover tires; about 5,000 Thai workers are employed and more than 392,000 tires are produced per week. For the aircraft tire investment, Thailand will become the Bridgestone's first country for the aircraft tire production outside Japan. According to BOI, Bridgestone is expected to produce approximately 109,000 aircraft tires a year. The expansion of Japanese aircraft tire production plants will bring more employments, create value added to Thai natural rubber and increase rubber tire export value.
Chinese rubber firms relocate to Thailand
Prinx Chengshan, a tire manufacturer from China, will relocate it production base to Thailand. It signed the contract with WHA group, a Thai industrial development company, to invest and establish the tire factory at WHA Industrial Estate 3 where it is located in Eastern Economic Corridor (EEC). The company will invest in 300 Rai of land to build the first factory with the total investment value of THB 2.01 billion. The factory is expected to fully operate in 2020 which it will be able to produce 4 million radial tires per year and further expand their production up to 12 million radial tires per year by the end of 2025. As a result, the relocation of Prinx Chengshan company will, eventually, increase the demand of Thai rubber approximately 230,000 tons within 5 years.
The establishment of Automatic and Tire Testing Center expects to hub for automotive and tire technologies of ASEAN
Thailand has developed Automatic and Tire Testing Center: Research and Innovation Center (ATTRIC), with the investment of THB 3.7 million on 1,235 rai of land in Sanam Chai Khet district, Chachoengsao province as part of Eastern Economic Corridor (EEC) development. The project is separated into 2 phases. The first phase of the project involves tire testing under world's standard (UN R117) and will be available in the end of 2019. The second phase will be developed for vehicles and auto parts testing including the test of long distance and high speed, brake performance, park brake, dynamic platform and skid-pad; the second phase expects to be ready in the year 2022.
The establishment of tire testing center aims to support car and tire producers in Thailand to meet the world's automotive standard from the US, Australia, Europe and Japan and will turn Thailand to be a hub for automotive and tire technologies of ASEAN. Moreover, it expects to rise the domestic consumption of natural rubber for about 150,000 tons per year, create 6 million income for rubber farmers and will attract investment for at least THB 1 billion per year. Furthermore, the center allows car manufacturers and tire producers to test their products within the country which will reduce testing time for about 2 months. And also reduce the cost of sending car and tire for testing oversea for about THB 119 million.