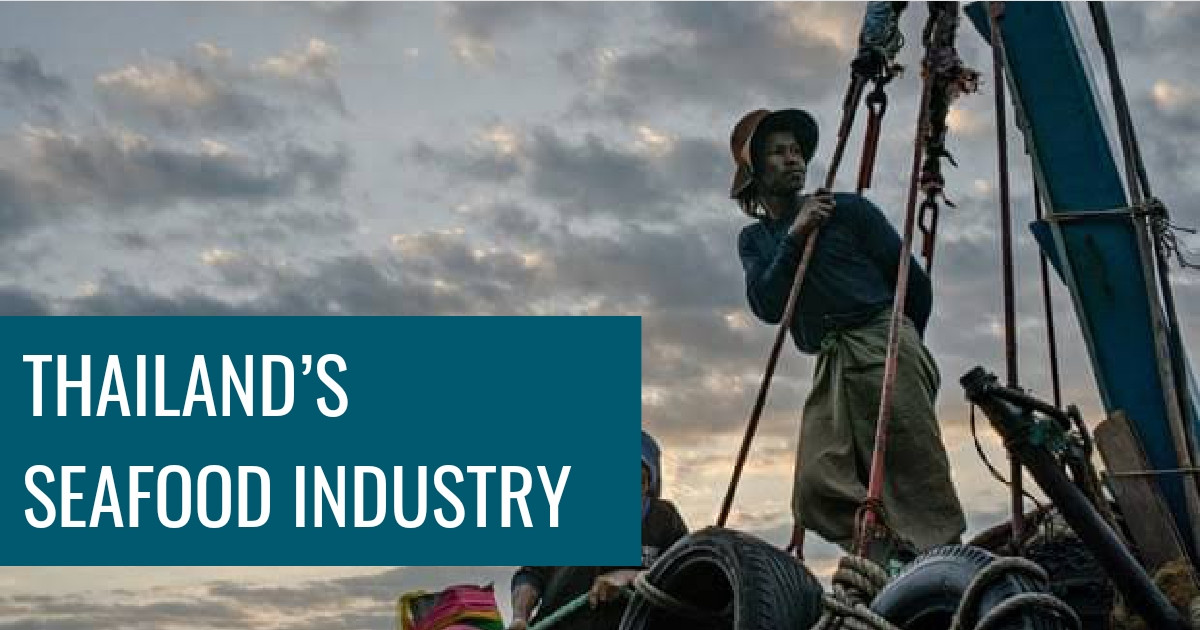 Overview of Thailand's seafood industry
Thailand is considered as land of fish and rice; the country has abundant natural resources with the adjoining of the Gulf of Thailand and Andaman Sea, making Thailand to become one of the world's major producer and exporter of seafood. Shrimp is the main economic animal as it has been recognized in term of high quality and nice flavor. The country has more than 2,500 kilometers of fertile and storm-shielded coastlines, 22 national marine parks, 936 islands and the total marine area of 316,118 square meter. With the country's geographical and weather conditions, the diverse marine animals are normally found in the Gulf of Thailand as they have natural rock, mangrove and coral and big river that provide marine animal foods and allow them to breed and grow.
Current Situation of Thailand and the world's seafood industry
The economic recovery has raised the increasing in disposable income of all global consumers. The promotion of fish and seafood as healthy, easy and rich in protein has significantly boost the demand for seafood markets. This tightens the balance between supply and demand, leads the fish and seafood industry to have positively forecasts in t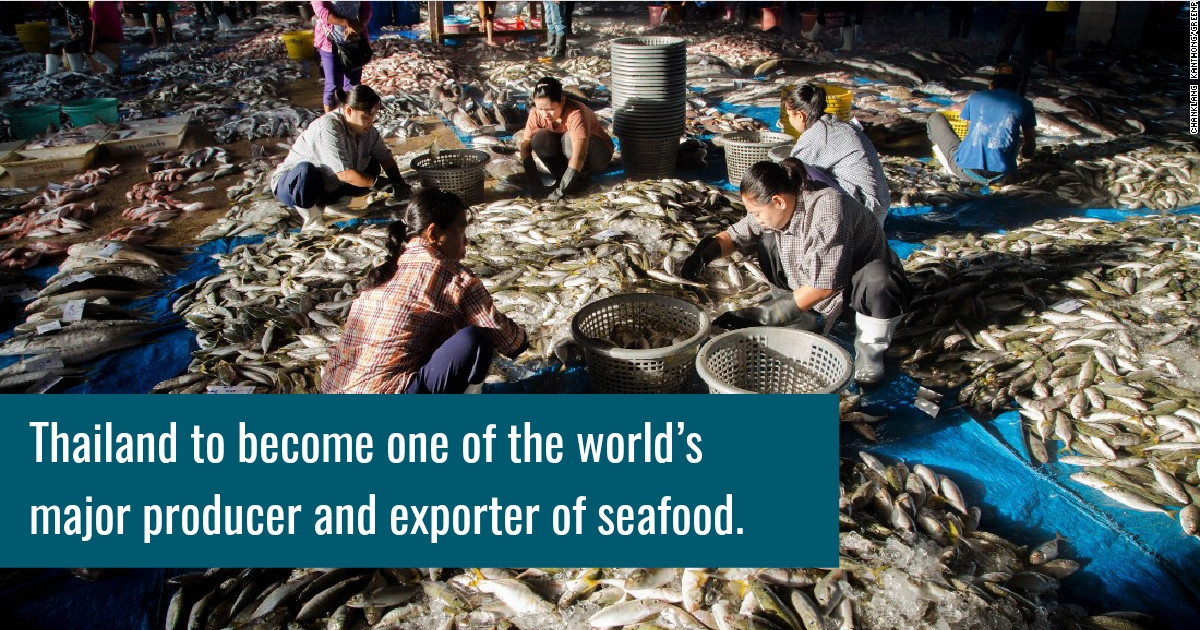 Global seafood market
As most of the seafood is known for high in nutritional value, the increasing in demand of fishery and aquaculture products have raised seafood trade globally. However, it is estimated to increased slowly due to the economic uncertainty especially in two large economic countries like US-China trade war. Moreover, another important factor is the reduction of sea lives capacity, caused by environmental issues such as global warming and weather disturbance. According to Food and Agriculture Organization of the United Nations (FAO), in 2018, the global production of seafood will grow only about 2.1% at Annual Compound Growth Rate (ACGR) to reach the total of 178.8 million tons. And its market value is expected to reach USD 155.32 billion by the year 2023, according to Statista. The growth mainly come from the trading of salmon and the crustacean trade which mainly came from Norway and European Union.
Asia-Pacific is considered as the World's dominant seafood producers and importers with the seafood market value of USD 49.5 billion in 2016. The world's largest seafood exporter is China with approximately USD 20 billion in 2017. Following by Norway to be the second main seafood exporter with the total export value of about USD 14 billion in 2017. Thailand was overtaken by Vietnam, reaching Vietnam to be the third rank in term of total global seafood export value. This came from the rise of whitefish and crustacean trade. The growth of fish export will mainly come from Asian countries which will account for 51% in 2030. And it is forecasted that China will remain to be the world's major export of fish with its 20% market share in the global fish market, following by Vietnam and Norway.
The top seafood importers in the world are remaining the same since 2012, the global seafood import values were growing faster than the volume as the seafood price is increasing continuously. The European Union is considered as the world's largest importer of seafood, its import value in 2017 was about USD 26 billion which was increased by USD4 billion from 2012. The second largest is the United States with the import value of about USD22.5 billion which mainly imported from China, Thailand and Canada. Following by China that comes up to be third rank with its import value of USD14 billion.
Current Situation and Forecast of Thailand's seafood industry
Excluding shrimp, in 2018, the total export value of Thailand's frozen, canned and processed seafood was USD 4.54 billion or 8.6% expanded from the previous year with about 560 producers and 98,565 workers in this sector. And it is expected to grow by 10% to reach USD 5 billion at the end of 2019, according to Department of International Trade Promotion (DITP). The main exported countries are Japan, United States, Australia, China and Saudi Arabia. The major exporting product in seafood sector is canned tuna and shrimp which are considered as 70% of the overall seafood market shares. The canned tuna normally has high demand in the global market and half of canned tuna in the world comes from Thailand. It generated about USD 2.2 billion in 2018 with the growth of 9.55% at CAGR and expects to grow by 10% to reach USD 2.5 billion in 2019. For the export value of fresh, canned, frozen and processing shrimp in 2018, it was reduced by 21.38% to USD1.32 billion and expected to expand about 5% to reach USD 1.39 billion in 2019. However, the export value of shrimp and canned tuna was not well enough, it reduced by 8.51% and 1.47% respectively in the first half of 2019. The production of shrimp and canned tuna seem to face with several serious issues which affect Thailand's reputation, trustiness and indirectly decrease in demand for seafood products from Thailand. These issues are lack of tuna from overfishing problem in the past and the Early Mortality Syndrome (EMS) in shrimps which is caused by bacterial agent, Unreported and Unregulated fishing (IUU) warning from European Union and the Tier 2 Watch List for human trafficking report.
The growing shortage of raw materials has led Thailand's seafood industry to import seafood in order to serve the demand for processed seafood products from other countries. In 2018, the import value of fresh, frozen and processed seafood was USD 3.1 billion which, up 9.55% from 2017. The main import seafood products were raw and frozen tuna with USD the total of 1.39 billion value in 2018. As Thailand is facing with shortage of tuna, the country needs to import raw tuna in order to produce canned tuna for export. The second largest import value was salmon, trout, cod and mackerel fish with its total import value of USD 311 million. According to the MGR Online, Thailand's salmon market is growing continuously, the import of salmon from Norway increased by 40% which was about 12,000 tons in 2018 due to high demand in domestic consumption as well as the increasing of Japanese restaurants. Moreover, the third largest import was raw and frozen shrimp with USD155.2 million in total import value.
Private sector invests on Thailand's seafood industry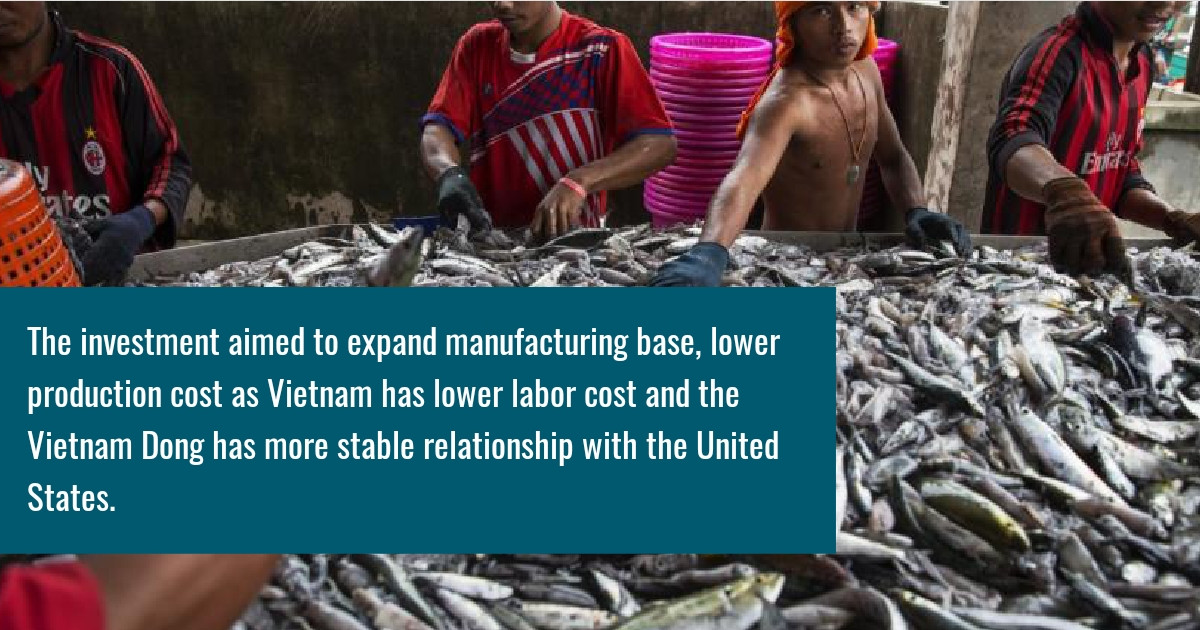 There are many private companies have invested on Thai seafood industry as the demand for seafood is growing all over the world. At the end of 2018, Cargill, the American food and agriculture company invested about USD70 million on the implementation of technology and innovation in order to make efficient and sustainable supply chain. Moreover, many Thai companies tend to invest in neighboring countries as they have lower labor cost. Thai Union Group, the country's major export of processing and canned tuna made an investment about USD 3.5 million in Yeuh Chyang Canned Food Co., Ltd. (YCC), the Vietnam-based company. The investment aimed to expand manufacturing base, lower production cost as Vietnam has lower labor cost and the Vietnam Dong has more stable relationship with the United States.
Opportunity and Challenge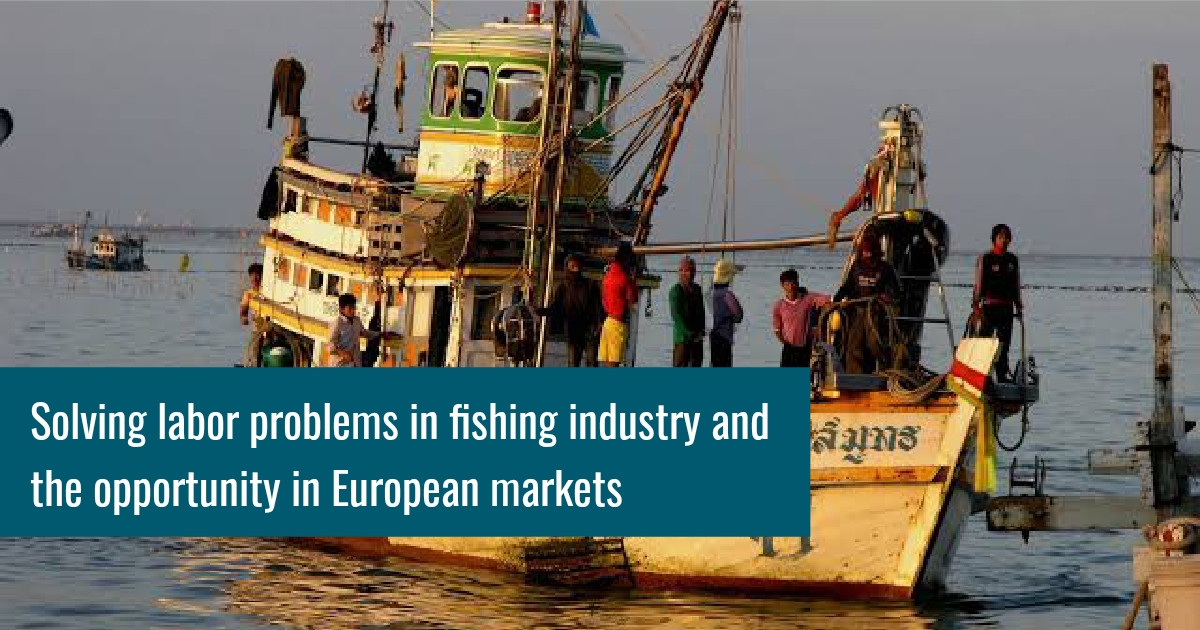 Solving labor problems in fishing industry and the opportunity in European markets
Thailand fishing industry has known for having illegal workforce for several decades. In 2015, European Union had officially warned and given yellow card to Thailand's fishing industry as Thailand did not take sufficient action toward the Illegal, unreported, and unregulated (IUU) regulations. The IUU regulation was established by European Union in order to eliminate illegal, unreported, and unregulated fishing from over the world, any countries that are not taking serious action toward IUU regulations will be blacklisted and trade banned by European Union. After the warning, Thai government had been working on improving law and regulations following the requirements from EU as the yellow card might cost about up to USD 500 million as EU is the main exported region of Thai seafood trade. Until early 2019, the EU had lifted the yellow card after banning Thailand from importing fisheries products to most of the European countries. This created better image for Thai seafood industry and become new opportunity to export seafood products to all European countries
However, the value of Thailand's fisheries products export to European countries might expand slowly due to many factors. First, Thai baht is getting stronger, since early 2018 to January 2019, the Thai baht was stronger by 2.7% while Indian Rupee and Vietnam Dong were weaker by 10.4% and 1.1% comparing to US dollar. This might affect to the overall country's export value. Second, the occurring of trade barrier which might weaken the country's price competitiveness such as the increasing of import tax and adding more import regulations. Moreover, the export of undifferentiated products such as shrimp, squid and other non-processing seafood are also facing with highly competitive in the markets. And competitors might be able to export them in cheaper price than Thai seafood products, as they have lower labor costs. Comparing to other countries, the cost of producing frozen shrimp in Thailand is about 100 baht per kilogram, but India and Vietnam can produce at 95.9 and 84.2 baht per kilogram which affect to the production volume and the order. Therefore, Thai seafood stakeholders need to adjust toward developing new products that can serve the demand in the European market. According to KResearch, after the removal of yellow card warning form EU, the trading of Thai seafood to EU is likely to start growing by almost 2%, considered as the first time in 8 years.
US-China trade war and opportunity of Thailand seafood industry
The trade negotiations between two largest economic countries in the world like United States and China had not go well. They decided to add tax and tariffs for ranging from 5% to 25% of the others' goods. Thailand as the country that exports products to these two countries might gain some benefits and opportunities.
After China has raised the tax and tariffs for up to 25% of any goods imported from the United States, giving Thai seafood products an opportunity to export seafood to China. The seafood products that Thailand normally export to China are crab and shrimp. According to Thairath, in 2017, China imported these products for about USD 2.5 billion, USD 290 million came from United States and USD 150 million came from Thailand. So, after China raising tariffs on US imported goods, US might exports less goods to China and that will create opportunity for Thai exporters of crab and shrimp to export more.
Moreover, the US might export some seafood products to Thailand especially frozen fish like salmon, pacific salmon, red salmon and codfish. As Thailand has high potential for food processing activities, the Trade Policy and Strategy Office of Thailand sees this as an opportunity for Thailand to import fish from US and shift to value-added products with wider margins that have strong demand in Europe and North America
Government's strategic plans toward developing Thailand's seafood industry
Thai government fight against overfishing in Thailand
Fishing is considered as the important activity of Thailand as one of the world's major export seafood. One of the world's most diverse marine ecosystems is in Southeast Asia, overfishing problem in the past destruct and threaten the number of fish available in the sea leading to the shortage of seafood supplies for Thailand seafood industry. This is one of the most serious problem that Thai government needs to take immediate actions against it.
After the ban from European Union due to not follow the IUU regulations. Thai government are working on taking serious action toward overfishing and unsustainability in fishing industry. Thai officials have enacted to ban the fishing activities in several areas in the Gulf of Thailand for about three months, starting from June to September. These areas are Prachuap Khiri Khan, Phetchaburi, Samut Songkhram, Samut Sakhon, Bangkok, Samut Prakan, Chachoengsao and Chonburi provinces. This regulation is expected to increase the marine resources, let marine species to breed and regrowth. Moreover, Thai fishing fleet also working beyond the country's boarder in order to investigate and track large vessels due to the concern of engaging in illegal fishing, illegal labor force and not follow the IUU regulation. The government's action will improve the image and trustiness of Thailand's seafood industry in global market.
FTA pushes Thailand's seafood industry to become the world's second largest seafood exporter
The Free Trade Agreement (FTA) of Thailand pushes the Thailand's seafood industry to be the world's second largest exporter of canned and processing seafood after China. Thailand has an agreement with FTA partners to avoid the tariffs and tax of the seafood goods imported from others' countries. Thailand's FTA partners are mainly in ASEAN and other countries like China, Australia, New Zealand, Chile, Peru and Hongkong, these countries have avoided tariffs of all goods imported from Thailand. However, another three countries which are Japan, South Korea and India still charge some of seafood goods imported from Thailand. For example, Japan collect tariff for the import of whole fishes, fresh fish and some frozen fishes like salmon, tuna, trout fish, frozen shrimp and processing seafood. After the avoidance of tariff and tax from Thailand's FTA partners, the export value and volume of Thailand's seafood products is expanding in every partners' markets. Especially, Chinese market that was expanding for about 484.19% and for other FTA partner countries including ASEAN, Australia, Chile, South Korea, New Zealand and Japan increased for 178.29%, 127.33%, 127.33%, 105.48%, 85.36% and 18.48% respectively, according to Ministry of Commerce.