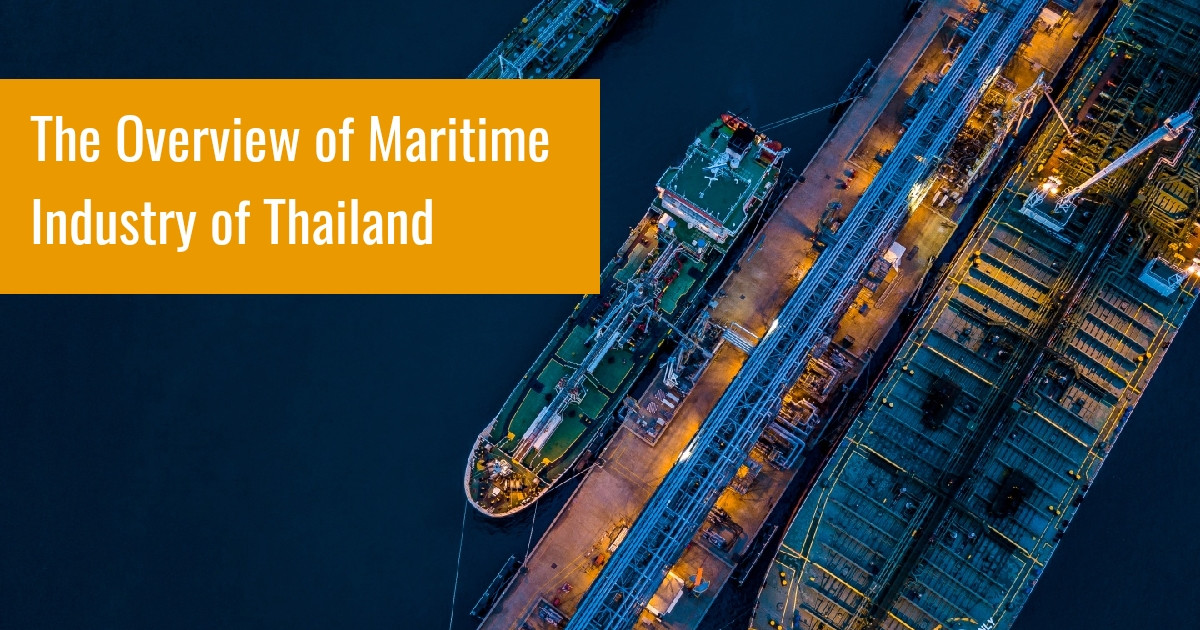 The Overview of Maritime Industry of Thailand
The geographic location of Thailand, which consist of 3,219 km of coastal length and over 4,000 km of waterways, is exceptional for maritime activities. It has connected to not only international deep-sea route but also inland route between Indochina and Mainland. Several ports have been constructed at strategic spots for maritime transportation. Therefore, shipping routes were established which connected southern, central and eastern part of domestic coastline city. Its main route starts from Laem Chabang and Map ta Phut to the ports in Bangkok and Samutprakarn as well as to the ports in Suratthani and Songkhla. In addition, inland routes such as Chao Phraya River and Pa Sak River have been used for transportation among cities along the river such as Ang Thong, Ayutthaya and Pathumthani. Although maritime transportation is not popular used for domestic transport, it is essential for exporters and importers. Over 90% of them ship their products via the ports due to lower cost of shipping and large volume of capacity.
Currently, Thailand has 5 main ports that connect to international route and be able to handle large amount of Twenty-foot equivalent unit (TEU). In 2019, the market value of Thai maritime transportation earned about THB 263.6 billion, according to SCG Logistics. Its largest port locates in Laem Chabang that is ranked as 20th largest port in the world. It can handle approximately 6.9 million TEU per year or 54% of total import and export. Also, it was planned to expand the capacity to 18.1 TEU per year and expected to be the hub of international trade in South East Asia region. The second largest port is Klong Toey Port (also known as Bangkok Port). It handles about 1.5 million TEU per year and will be transformed into multi-purpose port including commercial zone, modern port city and maritime transportation. Chiang Saen Port and Chiang Khong Port are the northern regional ports which located on the bank of the Mekong River. They promote the border trade among China, Laos, Myanmar and Thailand. Another important port locates at Ranong province in the southern part of Thailand. Ranong port is the main port at Andaman Sea which connects several international trade routes including South Asia, the Middle East, Europe and Africa.
However, maritime industry in Thailand still faces multiple challenges. Besides the issue of long travel time, a vague maritime regulation is the major problem. A lot of private ports were built disorderly resulting in an unsystematic management, a lack of advance port facilities and insufficient hinterland linkages with inland transport. Other challenges include the shape of natural waterway and natural phenomenal. For instance, the depth of Chao Phraya River limits the amount of goods that ship can carry while the low tide will delay the transportation which create the congestion of ship at the port.
The Performance and Situation of Thailand's Maritime Industry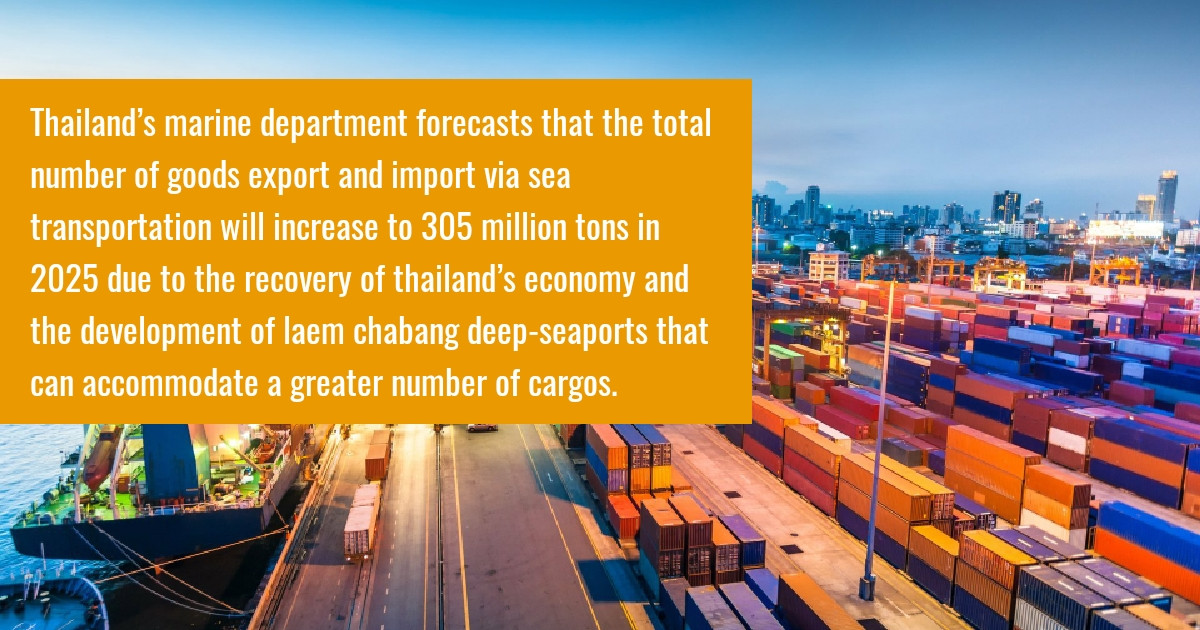 The Maritime Transport of Goods via Inland Waterways and Sea Transportation
EIC, the Economic Intelligence Center of Siam Commercial Bank, analyzed that there is an increasing in demand of maritime transport due to a rising cost of road transportation. Shipping a 20-foot container (twenty-foot equivalent unit: TEU) via maritime transport costs around THB 2,500 but road transport might cost about THB 7,000. If comparing the cost of transportation per weight and distance, it costs about THB 2.12 per ton/kilometer for road transport while the maritime transport costs only THB 0.65 per ton/kilometer. Therefore, shipping goods via maritime transportation is cheaper, be able to ship in the longer distance and can carry more weights comparing to road or air transports.
In present day, 17% of Thailand's total transport of goods is maritime transport which is separated into two different main routes including inland waterways and sea freight. The main routes of inland waterways are between Chaopraya and Pasak rivers which flows through Thai gulf at Samutprakarn province that can link to one of the important industrial provinces like Chonburi. In 2018, Approximately 55 million tons of goods were transported via this inland waterway route, increased from the previous year for 5.12% and grew about 2.15% at Compound Annual Growth Rate (CAGR) within the past five years. Coal, soil, sand, stone, rice are cement are the common goods traded via inland waterways. Coal has the greatest transport volume which was about 14.9 million tons, following by landscaping supplies (soil, sand and stone) and cement which were 13 and 10.5 million tons respectively.
The sea transportation is divided into two categories including sea freight, the common transportation used for exporting and importing goods internationally; and coastal freight, encompassing the trading by the sea along a coast without crossing an ocean. The main ports are located in the Gulf of Thailand including Laem Chabang and Map Ta Phut deep-seaports. In 2017, the total of goods shipped via sea transportation that registered at the Thai customs were approximately 276 million tons which was 5.3% growth from the previous year and increased 5.09% at CAGR from the past five years. About 215 million tons came from the sea freight and about 60 million tons came from the coastal shipping. The main goods for sea transpo­­rtation are petroleum products and miscellaneous goods. Thailand's Marine Department forecasts that the total number of goods export and import via sea transportation will increase to 305 million tons in 2025 due to the recovery of Thailand's economy and the development of Laem Chabang deep-seaports that can accommodate a greater number of cargos.
The Situation of Global and Asian Seaborne Trade
According to UNCTAD, United Nations Conference on Trade and Development, world economic expansion is the main driver of global maritime transportation. The World Bank Global Economy Prospects forecasted that the global economy might reach to 2.9% expansion in 2019 which could imply that the seaborne trade might expand in parallel. After years of weak performance, maritime industry in 2017 experienced a cyclical recovery from the historic low of 2016. Asian trade is growing due to the low-cost manufacturing activities, starting from China and its neighboring countries especially in Southeast Asia which generate seaborne trade flow. The outward-oriented greenfield foreign direct investment in manufacturing in Asian countries such as Cambodia, Thailand, Indonesia and Malaysia, had doubly developed from USD 26.6 billion to USD 50.2 billion from 2005 – 2016 according to Asian Development Bank. This leads to the increasing in additional maritime trade activity due to these countries need to supply for raw materials or goods to use in their manufacturing activities.
In early 2018, the amount of 62 million deadweight tons (dwt) of carrying capacity was added to the world fleet, lead the total of global tonnage to be 1.9 billion dwt. Greece, Japan, China, Germany and South Korea were the top five ship owning economies which occupying 50% of world fleet tonnage. In 2017, the shipping volume increased to 10.7 billion tons equivalent to 4% annual growth rate; 1.5 billion tons more than 2012. Asia and Oceania, the developing economies contributed largest volume of goods shipped via seaborne trade, by having 4.4 billion tons of goods loaded and 6.5 billion tons unloaded at seaports in Asian countries. The World container port throughput reached 753 million TEUs in 2017, about 461 million TEUs or 61% or almost two thirds of it was handled by the ports in Asia and Oceania. Thailand could handle about 10 million of containers which was ranked as number fourth in ASEAN after Vietnam, Indonesia and Malaysia. Moreover, the top 20 global ports' activities expanded rapidly which climbed from 8.9 to 9.3 billion tons because the demand and supply of global container freight rates raised by 6.4% and 3.8% respectively. In Thailand, the prospect of maritime transportation is positive as well. The shipping volume showed an upward trend during the last decade. It increased from 173 million tons in 2008 to 277 million tons in 2017 and expected to reach 306 million tons in 2022.
Thailand and the Global Shipping Connectivity
UNCTAD introduced Liner shipping connectivity index (LSCI), which measures the level of connectivity between country and global shipping network. It generates from 5 components including ship deployment, ship carrying capacity, number of shipping companies, maximum size of vessel and number of services. In 2018, neighbored countries in ASEAN such as Singapore, Malaysia and Vietnam have LSCI's level of 110.83, 93.64 and 60.38 respectively, while Thailand has LSCI's level of 45.06 which is lower than others.
Hence, maritime industry in Thailand needs an improvement in several areas. First, the shipment volume, despite the upward trend, the rapid growth of shipment volume will have to wait until the completing of port development such as the investment on Laem Chabang port expansion so that Thai's ports can handle more capacity of shipments and cargos. Second, the age of Thai commercial fleet, 44% of the ships have an age greater than 30 years old while the average age of world fleet is about 20 years old. Thus, Thai commercial fleet currently has a relatively high maintenance cost. Third, the ship capacity, even though Thailand owned 508 commercial ships which slightly increased from 498 in the previous year, the amount of weight carrying capacity was decreased by 7.5% from 6.4 million to 6 million deadweight tonnage (DWT). The slow development in number of Thai commercial fleet will limit the further potential growth of maritime industry.
The global trend of Shipbuilding and Repairing sector
The global shipbuilding and repairing are facing downward trend. By April 2018, the orderbook was reduced by 7% to around 77 million Compensated Gross Tonnage (CGT) or about 3,000 new ships which were historically low. Many shipbuilding companies around the world are struggling to turn a margin and some might need to scale down their capacity. Asia is considered as the global dominant players for shipbuilding and repairing industry, approximately 90% of the ships were built in this continent. In term of Compensated Gross Tonnage (CGT), in 2017, China was the largest player in shipbuilding industry which accounted for 35% in the global market share, following by South Korea and Japan that accounted by about 31% and 20%.
While shipbuilding sector in other countries are struggling to gain profit, Philippines, one of the countries in ASEAN still continues to outshine. Philippines has been ranked as the 5th largest shipbuilding in the world and the largest in ASEAN in term of CGT. Hanjin Heavy Industries and Construction, the shipbuilding key player in Philippines had earned the sales of USD 5 billion in early 2015 and had full orderbook for large crude carriers and LPG tankers up to the year 2017. The world's 6th largest shipbuilding in term of CGT, Indonesian shipbuilding business is stagnant as people prefer to import ships over constructing new one locally. By 2020, Indonesian government aims to build the vessels with the capacity of 200,000 deadweight tons and also reduce the tariffs from the imports of shipbuilding materials. Moreover, Vietnam is restricting shipbuilding sector after its leading shipbuilder known as Vinashin went bankrupt in 2010. With the investments and the relocation of the World's shipbuilding leaders like Hyundai Mipo (HMD) from South Korea and Japanese shipbuilding company, Vietnam achieved the sales of USD 333 million in 2015 and plan to develop advanced technology in order to accommodate 300,000 tons of ships in the nearby future.
The ecosystem of Thailand's shipbuilding
The shipbuilding and repairing sector of Thailand is considered as the important sector that supports seaborne trade and also defense related industry. According to Marine Knowledge Hub, in 2017, there were about 232 shipbuilding and repairing dockyards starting from small size with capacity of less than 500 gross tons to large sizes with the capacity of 4,000 tons, located in major rivers and sea ports across the country. The market value of Thailand's shipbuilding and repairing industry in 2016 was about THB 12 billion, reducing from the year 2014 that valued THB 16.8 billion. Thailand's shipbuilding and repairing sector consists of full range of supply chain starting from upstream, midstream to downstream industries. The upstream is related to the production of raw materials including steel, paints/chemical, machineries, navigation and communications equipment. The midstream industry includes financial and educational institutions. And the downstream industry relates to the maritime transportation including aqua tourism, fishery and commodity goods transportation.
Comparing to other countries in ASEAN, Thailand's shipbuilding and repairing industry is still far behind its competitors in the same region. Most of the big shipyards in Thailand have ability to build smaller vessels that weigh less than 20,000 tons and about 1,300 TEU of transport containers. However, the neighboring country like Vietnam has higher capacity to build vessels from up to 100,000 tons and about 70,000 TEU of transport container. The country is focusing on ship repairing rather than building new ships due to its abundant of skilled craftsmanship and companies can constantly earn profits in a long term.
Long Term Investment on Maritime Transport Infrastructure of Thailand
Thailand's economic has been growing rapidly over the past several decades, the economic recovery rate and the level of growth will depend on how fast the country can adapt to changes and improve its infrastructures to be able to handle with the trading opportunity in the future. Investing on maritime transport infrastructure development is one of Thailand's strategic plans to turn Thailand into AEC Logistic hub.
Investing on maritime infrastructure development is a mega project that will drive Thailand's economic growth in the long run. This development will not only benefit the waterway transporters but also provide business opportunities in various ways. As, the global demand on maritime transport services are rising. It spurs the demands on more ships and repairing which creates job opportunities for the ship repairers and shipbuilders. Moreover, developing maritime infrastructure will gain more income form the container storage and associated fees through higher traffic from ports. Therefore, Thai government has long term investment on the developing and expanding ports both city port and ports in the gulf of Thailand in order to be ready for the increasing volumes of cargo and commercial trades between Europe and also within Asia.
Klong Toey: The Development of Bangkok Modern City Port
Klong Toey port or Bangkok port is one of the important ports, considering as the second largest port of Thailand located in a prime location in the heart of Bangkok City. PAT, Port Authority of Thailand, has long term development plan to transform Klong Toey port with the capacity of about 2,000 rai to be a smart city port with necessary features such as department store, residential, business center, shops and other maritime commercial spaces. The development plans objects to enhance the port to become a new business landmark and tourism center that connects tourists travelling by ships such as cruise ship. PAT also aims to reform the port to become smart port with modern logistics and cargo distribution center which could be done by investing on building cargo storage, cargo truck parking, station and office buildings; and also installing technological tools such as Artificial Intelligent (AI) and automated port system to enhance the port efficiency.
The total investment value of this project might worth approximately THB 100 billion, the investment will be public-private partnership deal, according to The Nation. One of the very first project is developing Klong Toey community to be smart community by building condominium and apartment for household in the port area that illegally stay in PAT's land. The aim of smart community is to increase standard of living, PAT expected that the construction will cost about around THB 7.5 billion to build 6,144 condominium units. The bidding of construction and the construction will start in 2020 and expect to complete in 2022.
The Third Phase of Laem Chabang Port Development to Become an ASEAN Mega-seaport
As part of EEC development plans to invest on four mega projects such as high-speed railway linking three airports and U-Tapao aviation city. PAT also has a plan to invest on Laem Chabang seaport expansion, a deep seaport by the east side of Thai Gulf. It is considered as one of the important seaports especially for auto industry, one of the major exports of Thailand. About 98% of Thailand's vehicle productions, or about 1.2 million autos and trucks are exported at this port as it is the closest seaport near many automotive factories. The expansion aims to develop the port to become the regional logistics center, gain competitive advantage and be able to handle with the increasing of future demand for container throughput which might exceed the total capacity of Laem Chabang Port in present day. Two phases of Laem Chabang seaport expansion projected have been developed, which expand its capacity up to 10 million TEU per year, and now it is working on the third phase of construction. After completing the third phase of development in 2025, Laem Chabang port is expected to have double size capacity in order to accommodate more cargo containers to the maximum of 18 million TEUs, according to Board of Investment.
Dawei Deep Seaport Project: The Connection between Thailand and Myanmar
The collaboration plan between Thailand and Myanmar to develop and invest on Dawei deep-sea port in the Dawei Special Economic Zone (SEZ) has restarted again since 2008 as it has been paused due to its complexities and local resistance in Myanmar. The USD 8 billion or 12.23-trillion-kyat worth investment project, Dawei deep-seaport is set to be the largest industrial complex in Southeast Asia that will integrate regional connectivity and land bridge through ASEAN between Dawei, Bangkok, Phnom Penh, Ho Chi Minh and a door to the west via Indian Ocean and Andaman sea. The construction of this project was separated into two phases including initial phase that accounted for 27 sq. km and another 196.5 sq. km for a full phase. The initial phase of Dawei deep-seaport mainly consists of main infrastructure including 2 lane roads, small power plant, small port, LNG terminal, initial industrial estate, telecom landline and other relate infrastructure. And the full phase will consist of deep seaport, oil refinery, steel and fertilizer plants, new power plant, highway, urban and commercial developments.
The investment of Dawei deep sea-port project will benefit to Thailand in various ways such as strengthen the supply chain that link to Eastern Seaboard (ESB), providing trade opportunity as it allows to access to the west. The Dawei project will become a new land bridge that connects EU, Africa, Middle Easts and South Asia's markets through Indian Ocean and Andaman sea. Via Strait of Malacca, a significant maritime transportation route, it normally takes approximately 16 to 18 days for Thailand to transport goods to Europe or Middle East. The Dawei seaport will help reduce the transportation times for up to 12 days which will also lower the amount of transportation costs. Moreover, the deep seaport project will connect to Map Tha Phut seaport in the East of Thailand, so the goods transported from the west will be transported to Map Tha Put seaport before distributing to China, Korea and Japan. In addition, it will create labor flow from Myanmar which will help reducing labor costs especially in industrial sectors that requires high number of labor force.