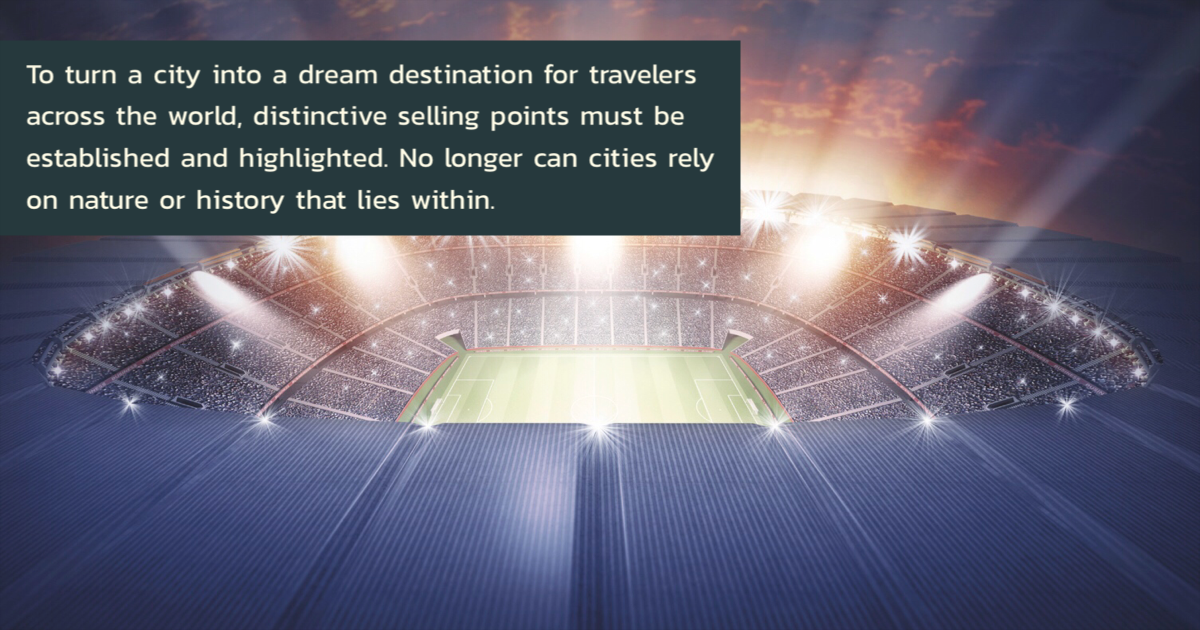 To turn a city into a dream destination for travellers across the world, distinctive selling points must be established and highlighted.
No longer can cities rely on nature or history that lies within. Developing a 'Sport City' is an important strategyfor Thailand in accordance with the 6th National Sports Development Plan (2017-2021) that aims to expand sports industry in all aspects to add value to the country's economy. Six potential provinces: Chonburi, Supanburi, Buriram, Udonthani, Srisaket and Krabi, are selected and promoted as 'Sport Cities' with a target tomake them recognized in the global community. Apart from encouraging locality and creating new-gen athletes, 'Sport Cities' aims to develop sports for tourism, or 'Sport Tourism', by hosting sports events currently popular in Thailand and international communities such as golf, diving, motorsports, triathlons, cycling, jet skiing and Muay Thai. Another mission is to establish a city as a hub for training for foreign athletes in order to add another income stream to the country.
Among the six model sport cities, 'Buriram' has proved that 'sports' can be a vital part in promoting a city as a 'bypass city' or a destination where sport lovers wish to visit at least once in their lifetime. To achieve this, the province allows fans of Thunder Castle or Buriram United Football Club to watch matches at Thunder Castle Stadium, the largest stadium in Asia acquiring the FIFA standard, and visit it at no cost. During their stay in Buriram, sport addicts can also buy souvenirs and spend money on food and accommodation.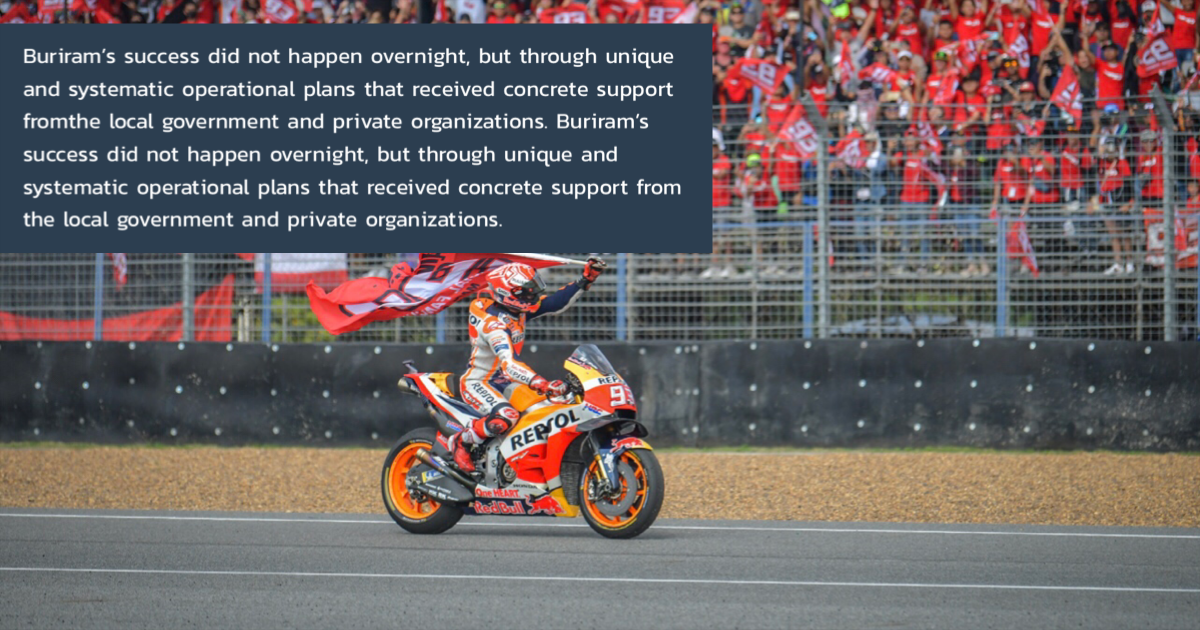 At the beginning of last October, sport enthusiasts who were passionate about speed races flocked to the MotoGP at Chang International Circuit in Buriram, one of 19 circuits for the MotoGP 2018 championship. Apart from this, Buriram hosted several national and international sport events such as the Super GT car race in 2014, Buriram Marathon: a world-class marathon of Thailand. The strategy of taking 'sports' as 'unique selling points' of a city has attracted many tourists to stay overnight in Buriram and generated more income for businesses related to tourism in the province. According to the Department of Tourism, 879,452 tourists visited Buriram in 2009 and generated 808.48 million baht for the city. After its football team was overhauled and fully developed, Buriram was able to attract a much higher number of audience to watch football matches as other sport competitions. In 2016, Buriram greeted more than 1.53 million tourists who generated 2.33 billion baht for local businesses. Hosting football matches and racing events, the province marked history by having approximately 30,000 to 50,000 visitors.
Additionally, the power of 'sports' has greatly boosted the economy in Buriram and rapidly driven the development of infrastructures in the province.
For instance, Buriram Airport offers more flights; more accommodation and hotels were constructed over the past few years to serve an increasing number of tourists. Buriram's success did not happen overnight, but through unique and systematic operational plans that received concrete support from the local government and private organizations. Following such strategic plans to establish the 'sport city,' the other five provinces could be destinations for sports lovers in a similar manner. Enhancing a city through sports is a challenge; yet, it can add new values to the city. With strategic plans and endless efforts, the dream to bring cities to the finish line is certainly not out of reach.

Source:
MICE Intelligence Magazine Volume 01 / Issue 3